America's lost Large Hadron Collider
In another thread I brought up that the LHC at CERN was less expensive to construct than Donald Trump's ludicrous and aggressively bigoted border wall proposal between the US and Mexico. Somebody jokingly said that we should let China build the next LHC.
That's not such a great idea.
If we had built the Super Collider that we had planned we would have attracted thousands of the worlds most brilliant minds to our country to do work on this subject.
We would be positioned as a world leader in science and technology again, instead of standing on the sidelines while someone else, somewhere else does what we used to do in the 60's and 70's.
Studies have been done which show that these kinds of scientific endeavors produce more dollars than they spend.
How would they do that? What do we do with the fact that the Higgs Boson exists and we found it? Well, we aren't immediately going to make a better battery with it, or a generator, or drive train. Right now the knowledge we have about the Higgs Boson is as useless as when Heinrich Hertz discovered radio waves.
Quote:

I do not think that the radio waves I have discovered will have any practical application.
-Heinrich Hertz
But knowing fundamental physics means we know more about how the world works. And when you know how the world works you know how to GET it to work for you. Though the Higgs field may or may not eventually lead to any particular invention all on it's own there is no doubt that all the effort expended in the search for it certainly does yield results.
When you are pushing the boundaries of science you necessarily push the boundaries of technology.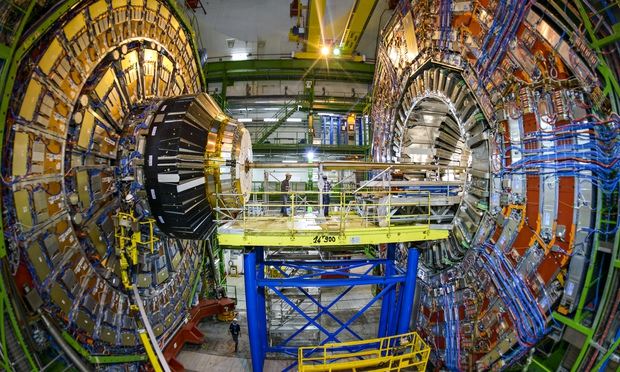 This is not off the rack gear. Making this means making better circuitry, magnets, computing storage mechanisms, algorithms and information processing techniques.
You can't cram higgs bosons into a jar and have a better fire extinguisher... but the technological expertise required to find the higgs boson means better technological know-how all around. To make THAT magnet work we had to make magnets better. And that information will spread. The Higgs field, by the way, was just what was expected to be found there. Whatever comes next will be more exciting than that for particle physicists and lead to actual new science.
Just having all of these minds in the same place working and playing together produces value far far far in excess of the 9 billion dollars it took to build the LHC. The most obvious example is the internet. The internet was invented at CERN by particle physicists who wanted an easier way to share particle physics experiment data with eachother.
Now people's lives in the developed countries revolve around the internet.



_________________


In the absence of God, I found Man.
-Guillermo Del Torro

Have you tried that? Looking for answers?
Or have you been content to be terrified of a thing you know nothing about?

Are you pushing your own short comings on us and safely hating them from a distance?

Is this the virtue of faith? To never change your mind:

especially when you should?



Young Earth Creationists take offense at the idea that we have a common heritage with other animals. Why is being the descendant of a mud golem any better?

Confidence being an expectation built on past experience, evidence and extrapolation to the future. Faith being an expectation held in defiance of past experience and evidence.