Re: Today Infowars, Tomorrow Booktalk?
State Supreme Court to hear InfoWars appeal in Sandy Hook case
..."This is extremely good news for all who care about freedom of expression," Pattis said. "One may disagree with Mr. Jones, in which case the remedy is not to listen to him. Silencing speech is never a good idea. While we owe sympathy to the Sandy Hook parents, their grief does not entitle them to become censors."...
ctpost.com/local/article/State-Supreme- ... 086011.php
The Connecticut Supreme Court is taking over the Alex Jones / Sandy Hook case. That almost never happens, but the lower courts are futzing around with the First Amendment and freedom of speech here. Cases have an almost guaranteed path to the US Supreme Court once they come out of a state's supreme court, so eventually the landmark case reaffirming freedom of speech in America may have Alex Jones' name on it. Excellent.
Meanwhile, in Britain last week, they locked up a man whose crime was "contempt of court." Tommy Robinson. He reported on a "grooming" trial of Pakistani Muslims. They were grooming British girls to become child sex slaves, and Robinson reported on the case. He was cautioned by the court not to do it again (the British have no Bill of Rights that protects freedom of speech), so when he did it again he was cited for contempt. Then they locked him up, which is unprecedented. Contempt charges have always been dealt with through fines. Nobody can find a record of an actual incarceration for the offense. The British government is intent on surrendering Britain to Islam. Robinson's an impediment to that goal, so he was sent to prison, where he will likely be killed by the majority Muslim population. On the bright side, his case has opened a lot of eyes.
Far-Right Activist Tommy Robinson Jailed for Nine Months at Old Bailey
https://www.youtube.com/watch?v=-ERmH0AL0yU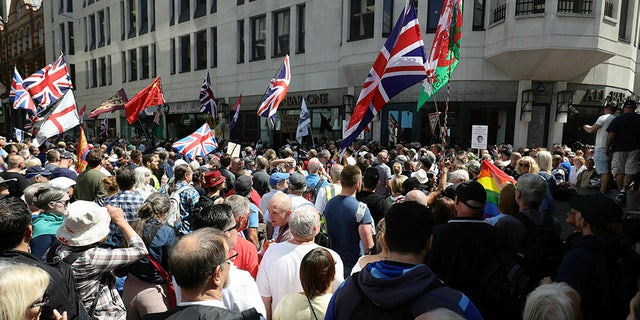 These assaults against freedom of speech are intended to bring down western civilization. The American Bill of Rights in particular is problematic for the tyrannical-minded globalists. The Bill of Rights reminds us that we are born with unlimited rights, which government cannot take away except through due process, and it then enumerates some of the rights we have. First listed is freedom of thought (speech, worship, assembly and so on). Also, we are reminded that our rights are God-given. So that's one of the reasons why we've seen such an assault on religion; God must be removed from America's thinking so that we will no longer fully appreciate our governing documents.
At any rate, there was good news on the Jones case this week, and Britain was galvanized by the Robinson injustice.
A video that Alex Jones recently featured on his show:
The END GAME: WHY the WEST is LOST
https://www.youtube.com/watch?v=cPembXZMKv0