JoVoL: An Elegant and Brutally Erotic World
Compared to Earth, JoVoL has weaker gravity. It also has a red (fandango, actually) sky, two suns, and two moons. It's inhabitants, mostly descendants of traveling Earthlings, live by simpler codes of conduct. The strong take what they want, and the weak serve. JoVoL is a beautiful place, brutal and erotic...serene and tumultuous, always enrapturing.
What the Eye Beholds, my latest novel, is available on Amazon Kindle and Smashwords for only 99¢.
What the Eye Beholds at Smashwords
What the Eye Beholds at Amazon Kindle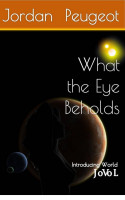 Look closely at the cover image.