What the Eye Beholds: Introducing World JoVoL
Announcing the release of my new novel,
What the Eye Beholds
.
The story takes our male protagonist to the world of JoVoL, a planet with two suns and two moons that is inhabited by Earthlings who have been transported to the peculiar place over thousands of years. Strong bodies and strong minds rule while the weak serve, with both men and women finding themselves all along the spectrum.
What the Eye Beholds at Smashwords
What the Eye Beholds at Amazon Kindle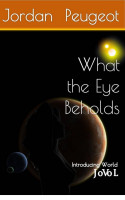 In celebration, I am offering my first novel,
Please Jaxon Dixie
, for free at Smashwords.
Please Jaxon Dixie at Smashwords