Robert F. Kennedy Jr. answers Bill Gates on the dangers of a mandatory CCP Virus vaccine
"...Gates's polio vaccination campaigns
paralyzed 496,000 children
in India between 2000 and 2017, causing his agency to be expelled from India and immediately lowering polio paralysis rates...."
thebl.com/us-news/robert-f-kennedy-jr-a ... ccine.html
You know, after accidentally infecting 10,000 with polio you should stop, right? Or 50,000? But half a million? Over 17 years? I remember the polio incident clearly. The Gates people injected all of those kids with polio, while the news media in the west reported that they were coming down with "polio-LIKE symptoms." I'm surprised that India hasn't put a price on Gates' head. Anthony Fauci (a Gates business partner) has already said that there will be "unintended consequences" when they start injecting Americans with the Covid vaccine. They're setting the stage for slaughter.
Gates, Johns Hopkins University and some others ran a "simulation" of a Covid-like virus outbreak in China at the end of last year. This was just before the actual virus appeared.
Event 201: Bill Gates & World Economic Forum Simulated Coronavirus Outbreak 6 Weeks Before First Case in Wuhan
prepareforchange.net/2020/01/27/event-2 ... -in-wuhan/
If I staged a public simulation of breaking into my neighbors' home and killing them, and then 6 weeks later they were killed in that manner, who do you think the police would look at?
But Gates and his cohorts feel that they can do and say whatever they want. In the middle of this PLANdemic Microsoft even had the gall to release a promotional video that features a Luciferian:
Microsoft Pulls Ad Featuring 'Spirit Cooker' Marina Abramovic After Backlash
http://www.informationliberation.com/?id=61375
Abramovic is mentioned in this video, posted 5 days ago on Youtube. It's averaging more than a million views per day:
OUT OF SHADOWS OFFICIAL
youtube.com/watch?v=MY8Nfzcn1qQ&fea ... e=youtu.be
One of the benefits of the lockdowns is that people who've never seen how they're being controlled finally have time to take a look. "Out of Shadows" touches on a lot of the things that have led to our present fix. Basically, the people who run the world are insane, and Luciferians. The filmmaker backs up every claim he makes by citing investigations, reports and so on. A superb piece of filmmaking. I'm glad he released it on Youtube when he did.
SOME OTHER VIDEOS AND ARTICLES:
Man goes off on 'British f***ing police' who allegedly bashed through his front door 'to make sure there's nothing going on' amid COVID-19 lockdown
(Good for this guy. Short video. He absolutely stymies the Gestapo.)
hideoutnow.com/2020/04/man-goes-off-on- ... e-who.html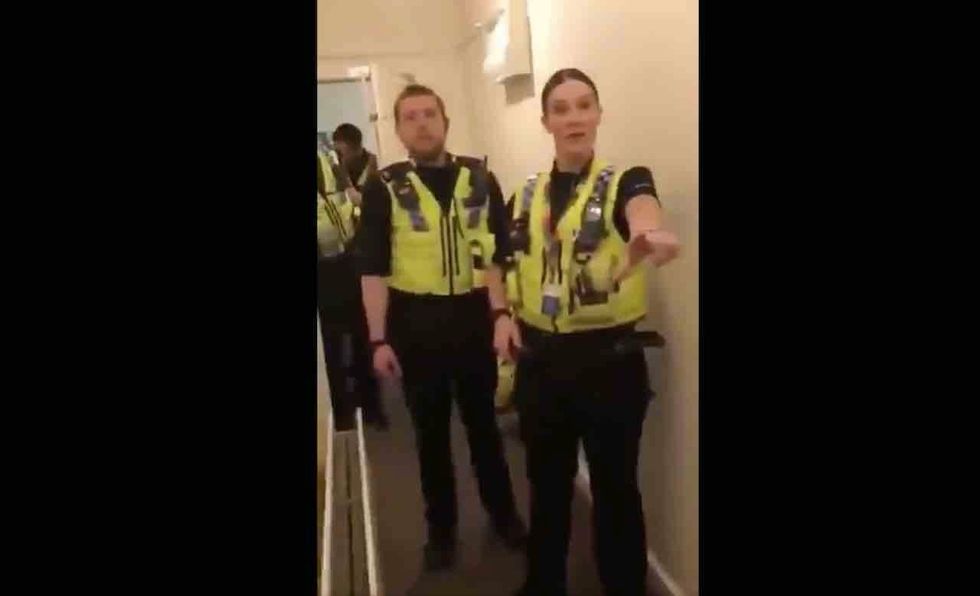 After video goes viral Philly transit authority does about-face
(Another smackdown of the Gestapo. There's no law requiring you to wear a mask on public transport in Philadelphia; it's just a "guideline." Yet seven cops pulled a man off a bus for not wearing a mask. Because he fought, and because somebody filmed the incident and put the video on the internet, the Gestapo in Philly has been ordered to stand down.)
hideoutnow.com/2020/04/after-video-goes ... gging.html
Florida surgeon general removed from Governor DeSantis' coronavirus briefing after saying social distancing necessary until there's a vaccine
(A great, short video. The Surgeon General of Florida is not permitted to utter another word after he parroted genocidalist Fauci's diktat).
hideoutnow.com/2020/04/florida-surgeon- ... -from.html
Legal team challenges governor's coronavirus order that 'bans' some homeschooling
(One of the more energetic fascists to emerge from the Plandemic is Michigan's governor. Biden said he wants her to be his running mate. She doesn't believe you should be allowed to educate your own children.)
wnd.com/2020/04/governors-coronavirus-o ... schooling/
Tim Pool: Social Order Is On The Brink, US Facing Meat Shortage, Farmers Dump Food, Millions Going Hungry
(A very levelheaded opinion piece. He talks about the coming food shortages. The US is dumping 4 million gallons of milk per day now, and plowing crops back into fields, because people aren't going to school or to restaurants. He talks about how this will lead to Soviet-style food distribution by the government).
investmentwatchblog.com/tim-pool-social ... ng-hungry/
At any rate, we've been scammed. A new virus was released on the world, and our controlled mainstream media used fake numbers to panic our leaders into overreacting. Hopefully we'll see an easing of the insanity over the next couple of weeks.
And as we go forward we'll need to identify those responsible for creating the virus and for committing propaganda abuses. They have to be brought to justice. Swift justice, no courtroom drama. Tribunal justice. Quick and efficient.
The genocidalists have an advantage at the moment because they're also crashing the world economy. Our old money systems will be done away with and we'll get a new system. The cost of signing up will be to take a Gates vaccine. So we'll each be faced with a choice--die slowly of starvation, or die more quickly (humanely, in Gates' view) from a needle jab.
Issue an arrest-on-sight order for Gates, and things will begin to turn around pretty quickly.