Moby Dick Chapter 27 Knights and Squires (Stubb, Flask, Tashtego, Daggoo, the crew)
Chapter Link
http://www.gutenberg.org/files/2701/270 ... m#2HCH0027
The Second Mate, Stubb, was "Good-humored, easy, and careless, he presided over his whale-boat as if the most deadly encounter were but a dinner, and his crew all invited guests....Long usage had, for this Stubb, converted the jaws of death into an easy chair."
Proximity of death is a continuing theme in Moby Dick, and Stubb provides one way of handling it.
Smoking.
"like his nose, his short, black little pipe was one of the regular features of his face. You would almost as soon have expected him to turn out of his bunk without his nose as without his pipe. He kept a whole row of pipes there ready loaded, stuck in a rack, within easy reach of his hand; and, whenever he turned in, he smoked them all out in succession, lighting one from the other to the end of the chapter; then loading them again to be in readiness anew. For, when Stubb dressed, instead of first putting his legs into his trowsers, he put his pipe into his mouth. I say this continual smoking must have been one cause, at least, of his peculiar disposition... against all mortal tribulations, Stubb's tobacco smoke might have operated as a sort of disinfecting agent. "
Third Mate Flask was "very pugnacious concerning whales, who somehow seemed to think that the great leviathans had personally and hereditarily affronted him; and therefore it was a sort of point of honour with him, to destroy them whenever encountered. So utterly lost was he to all sense of reverence for the many marvels of their majestic bulk and mystic ways; and so dead to anything like an apprehension of any possible danger from encountering them; that in his poor opinion, the wondrous whale was but a species of magnified mouse, or at least water-rat, requiring only a little circumvention and some small application of time and trouble in order to kill and boil."
Qeequeg was harpooner for Starbuck. Tashtego was harpooner for Stubb, and Daggoo for Flask.
Tashtego, an unmixed Indian from Gay Head, the most westerly promontory of Martha's Vineyard, where there still exists the last remnant of a village of red men, which has long supplied the neighboring island of Nantucket with many of her most daring harpooneers.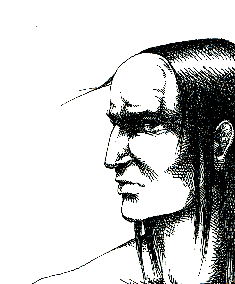 Daggoo, "a gigantic, coal-black negro-savage, with a lion-like tread,...retained all his barbaric virtues, and erect as a giraffe, moved about the decks in all the pomp of six feet five in his socks. There was a corporeal humility in looking up at him; and a white man standing before him seemed a white flag come to beg truce of a fortress."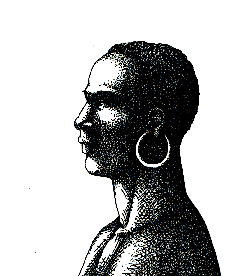 "not one in two of the many thousand men before the mast employed in the American whale fishery, are Americans born, though pretty nearly all the officers are. Herein it is the same with the American whale fishery as with the American army and military and merchant navies, and the engineering forces employed in the construction of the American Canals and Railroads. The same, I say, because in all these cases the native American liberally provides the brains, the rest of the world as generously supplying the muscles."