Re: Draining the swamp - Thank you Donald Trump
Yes, the Republican Party is controlled by Trotskyite commies. They took it over years ago. Ron Paul's 2003 speech in the House of Representatives addressed this. The speech was called "Neo-conned":
Quote:

More recently, the modern-day neocons have come from the far left, a group historically identified as former Trotskyists. Liberal Christopher Hitchins has recently officially joined the neocons, and it has been reported that he has already been to the White House as an ad hoc consultant. Many neocons now in positions of influence in Washington can trace their status back to Professor Leo Strauss of the University of Chicago. One of Strauss' books was Thoughts on Machiavelli. This book was not a condemnation of Machiavelli's philosophy. Paul Wolfowitz actually got his PhD under Strauss. Others closely associated with these views are Richard Perle, Eliot Abrams, Robert Kagan and William Kristol. All are key players in designing our new strategy of preemptive war. Others include: Michael Ledeen of the American Enterprise Institute; former CIA Director James Woolsy; Bill Bennett of Book of Virtues fame; Frank Gaffney; Dick Cheney; and Donald Rumsfeld. There are just too many to mention who are philosophically or politically connected to the neocon philosophy in some varying degree.
ronpaulinstitute.org/archives/neocon-wa ... eo-conned/
Marxists on the left, Trotskyites on the right. And the one thing they agree on is war with Russia. The Bushes and the Clintons both push for war with Russia. Democrats pursue petty issues with Trump and Republicans aid them, while we're on the brink of war with Russia. The only thing holding war back is Donald Trump. That's why the War Party in Washington is so desperate to get rid of him.
And meanwhile, back in the mind control arena, we got this story, just this week:
CIA's illegal mind-control experiments exposed in secret files
patriotrising.com/cias-illegal-mind-con ... ret-files/
thesun.co.uk/news/7920010/cia-mkultra-m ... documents/
The Freedom of Information Act, baby. Yeah! MKUltra was the umbrella program that the Church Committee uncovered back in the 70's. Ultra had dozens of sub-programs. One was Monarch, where they tortured children. The press back then and even now focuses on the drug experiments, but there is much, much darker stuff. Pedophilia. The Podesta emails caused fury in the New York Police Dept. Those were the emails that talked about 'pizza parties,' talked about 'flavors' and 'toppings' and 'helpings,' so on. Code speak. Thinly veiled. The NYPD was ready to go public but the feds overruled them, then some operative was sent into a local pizza shop, Comet Pizza, and he fired a pistol and screamed that he was there on behalf of Alex Jones. So that became the story, about the 'conspiracy theory' of Comet Pizza pedophiles, and the Podesta emails have quietly sunk out of public awareness. But John Podesta gets confronted about it occasionally. There are videos of him on the internet blowing his top when questioned about the emails.
Research into trauma-based mind control began at Britain's Tavistock Institute in the 1920's, and today Tavistock is still involved in horrors:
In 20 years we'll look back on the rush to change our children's sex as one of the darkest chapters in medicine, says psychotherapist BOB WITHERS
dailymail.co.uk/debate/article-6402003/ ... icine.html
After six sessions now, British mental health professionals recommend castrating male children.
Look at Celine Dion's sick new clothing line for infants:
Something is Terribly Wrong With Céline Dion's "Genderless" Clothing Line
https://vigilantcitizen.com/latestnews/ ... hing-line/
Probably Obama's sickest legacy to America was his promotion of gender self-identification. One of the things you do to a child in Monarch programming is wreck the sense of gender, so that the child will accept sexual molestation from both men and women. Obama probably had this done to him. His mother's parents were CIA connected, and they named their daughter "Stanley." As an adult Stanley went to work for American pornographer Frank Marshall Davis, and she got pregnant. Barack was born no telling where, but his mom later married Lolo Soetoro and lived with her son in Lolo's native Indonesia. Barack's nanny in Indonesia was a transgender named Evie.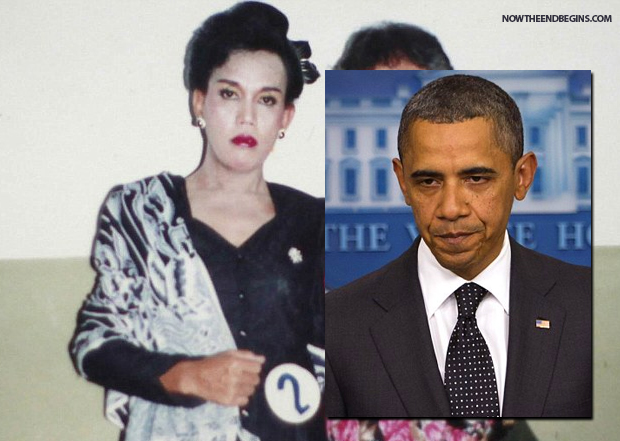 Evie was noted locally for...well, transgenderism. So that's how Barack grew up, coming out of a CIA background, born to a woman with a man's name, sired by a pornographer, raised by a transgender. And he was also a member of a cult called SUBUD, or at least his mother seems to have given him a cult name:
In that document for a passport renewal, Obama's mother crossed out his name (Soebarkah). Members of the cult adopted new names, and that seems to have been Obama's. The woman who later told the world that she had seen Obama's birth certificate (so we could all go back to sleep now) was also a member of SUBUD. Her birth name was Fuddy, and she died under suspicious circumstances not long ago.
What are the chances? The mysterious death of Loretta Fuddy
canadafreepress.com/article/what-are-th ... etta-fuddy
Anyway, nobody knows anything about Obama's early life, but it's the kind of life that the CIA keeps watch for. Most of the Monarch victims early on came from sexually dysfunctional families. Generational incest is prized in Monarch programming.
I think I'll put together a web page called "Who is Barack Obama?" The press has been slapping a lot of lipstick on Michelle Obama lately, so I don't think the Obamas are done with politics. Obama's had lots of aliases, and with the new revelations about the government's mind control programs, his identity needs to be re-examined.